http://www.addictinginfo.org/2016/02/08/people-are-now-hilariously-trolling-marco-rubio-by-showing-up-to-rallies-dressed-as-robots-image/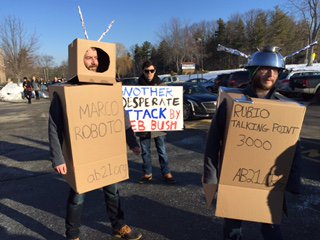 "This is what Washington D.C. does," Christie said. "The drive-by shot at the beginning with incorrect and incomplete information and then the memorized 25-second speech. That is exactly what his advisers gave him."
It was a disaster for Rubio, especially since he looked to be rising in the New Hampshire polls. But now, he's seen as a robot who is pre-programmed to say certain things.
And he's not going to able to forget about his robotic blunder any time soon.
Some clever people had the brilliant idea to troll Rubio by dressing up as robots. In the Twitter image below, you can see two guys in their robot gear. One is named Marco Roboto and the other is called Rubio Talking Point 3000.
did i just understand Christie to say Rubio was lying about Pres. read lead in at top i really don't think i'm mistaken my next thought is why haven't the others seized on it to bash Obama huggin Christie????????
Trump talks about Cruz being nominated than having to go through the birther crap in court what about Christie that bridge is still up in the air and subject to the same scrutiny???????