http://www.addictinginfo.org/2015/11/09/nypd-detective-honored-with-challenge-coin-commemorating-four-justified-kills/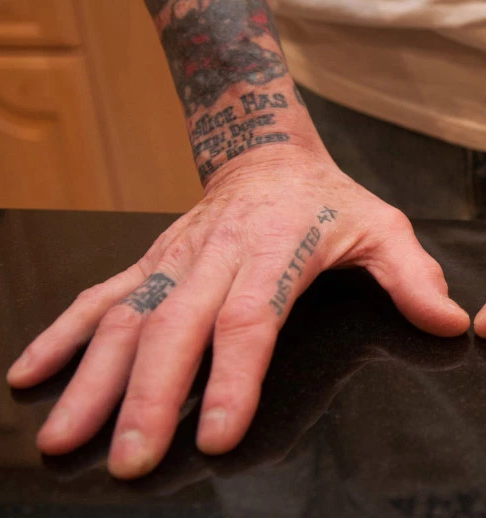 Keegan Stephan @KeeganNYC
Cop who this NYPD "challenge coin" for killing 4 was dedicated to had "Justified 4X" tattood on his trigger finger. pic.twitter.com/IWyy9VCPG
Challenge coins are typically a military tradition, and are normally presented by unit commanders in recognition of special achievement. They are usually stamped with an organization's insignia or emblem to prove membership or to enhance morale, but have become collector's items.
A posting from July to a police-oriented message board titled "Thee Rant" has been uncovered by New York City based writer and activist Keegan Stephan, and appears to be advertising commemorative coins for a NYPD Detective killing four people. They feature four skulls to represent the dead.
Thee Rant is typically filled with hateful posts by members of the NYPD about victims of police violence.
The Challenge Coin post stated:
A challenge coin has been struck to commemorate Det. Ralph Friedman's service in the NYPD. The coin was made by the Empire Coin Company. Ralph is contributing all proceeds to NYPD detectives and cops' widows and dependent children, which is the only way he would give permission to produce this coin.
The pictures you see here don't come close to doing the coin justice. This is a weighty piece, alternatively high polish and brushed metal measuring 2″ across. One side has Ralph's 2 shields and commands, while the rear exhibits 4 death-heads symbolizing the number of lives he took in the line of duty, Ralph's rank and name, plus dates of service.
We spoke with Keegan Stephan who explained that to post on Thee Rant you must be an active or former NYPD officer to post to the board.
Friedman, 66, is the most decorated police officer in NYPD history. According to the New York Post, he has been in 15 "gun battles" and has shot eight people, including the four he killed. He told the Post:
"I was never traumatized, I never felt bad. I felt I saved my life or someone else's life."
The heavily tattooed former detective has received 219 NYPD awards, 36 civilian honors, and arrested more than 2,000 people, 105 of which were while he was off-duty.
Even if this man's kills were actually "justified" morally, a much higher bar than the low one set for police "justification" legally, there is something terribly disturbing about a culture that celebrates the taking of any life.
These men and women in blue who are celebrating death are lauded as heroes, while the families of those whose lives they applaud being taken are left to pick up the pieces.
short and sweet, and they wonder why their victims relatives and friends don't respect them. note this is not a sanctioned awarding by the hierarchy or is it???????????????????????????????????